What Our Customers Are Saying
"I have been a customer of Las Vegas Pest Control for many years and have been completely satisfied for the entire time."
Pigeon Control Las Vegas, Nevada​
With the growth of the industrial age, pigeons have flocked to the city. These avian invaders have a knack for ruining your home with the messes they leave in their wake. You don't have to deal with pesky pigeons on your own — let us help! Our professional pigeon control services in Las Vegas are your ticket to getting rid of pigeons long term.
Pigeon Damage
Pigeons are urban nuisances. They create unsafe living conditions and can damage properties. The main concern with regards to these bird pests is in their droppings, which can carry diseases. Pigeons droppings have been linked to Newcastle disease, salmonella, toxoplasmosis, encephalitis, cryptococcosis, pigeon ornithosis among other diseases. Their droppings are highly acidic and can damage structures over time. In addition, pigeons can carry harmful parasites with them, including ticks, lice, mites, fleas and biting insects. When pigeons choose to nest around your home or business, they can potentially subject you to these problems.
Keep Pigeons Away for Good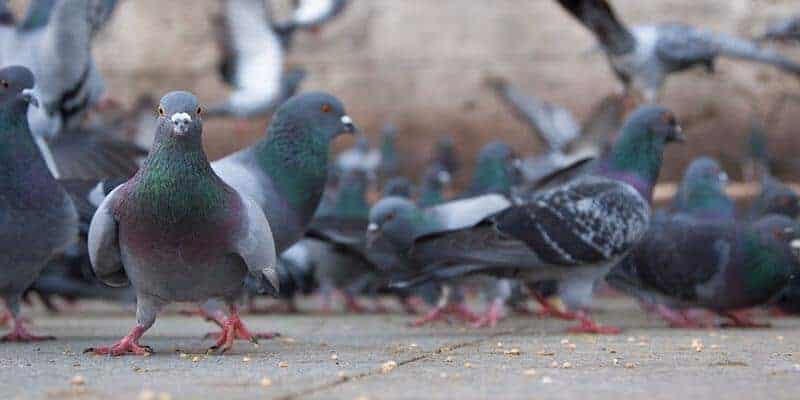 If you notice a few pigeons around your home or business, contact Las Vegas pest control as soon as possible because when pigeons come, they come in numbers and are there to stay. A few pigeons around your home is a sign of a flock coming. They are non-migratory birds (they nest and live in one place). Once they find and suitable home, they start repopulating promptly. A female pigeon can have 5 babies a year. So if you see a few pigeons hanging around your business or home, eliminate your pigeon problem before it begins with pigeon control Las Vegas.
Dealing with pigeons can be a difficult process, but here at Las Vegas Pest Control, it is our specialty! Our effective pigeon control services can help rid your home or business of these pesky pests. When you trust us with your pigeon control needs, our technicians will:
Work with you to address your main concerns
Take specialized photos from your roof
Provide you with a proposal and free estimates
Use spikes on ledges to deter pigeons from roosting
Treat your home with special pigeon netting
Provide quarterly trappings to keep the birds at bay
It All Starts with a Free Estimate
Taking care of the pigeon problem in Nevada is no easy task, but here at Las Vegas Pest Control, we are prepared to keep pigeons away long term with our lifetime warranty. We provide you with a free service estimate and listen to your main concerns so that you're 100% satisfied with our services.
Highly-Trained Technicians Provide Exceptional Results
We know that you wouldn't trust your home to just anyone — you want trained professionals who will get the pigeon removal job done right the first time. Our Las Vegas pigeon control team comes to your house equipped with the latest technology and techniques to eliminate some of the worst pigeon problems in Nevada. Our technicians are motivated to provide you with the best possible service and will treat your home and your family like their own.
You'll Love the Results--We Guarantee It!
We pride ourselves on providing consistent, efficient results for our customers during each and every service. If you are not completely satisfied with the results of your treatments, we will happily return to your home and retreat free of charge. It is our commitment to your satisfaction that sets us apart from our competitors and keeps our customers coming back year after year.

Home Advantage
Defense against 50 types of pests including ants, spiders, roaches, crickets, and other common household pests for less than $0.99 a day.


Home Advantage Plus
Defense against 75 types of pests. Protect your home from ants, spiders, roaches, crickets, & more. Plus pantry pest control, rodent control and killer bee swarm control for less than $1.25 a day.


Home Advantage Premium
Defense against nearly 80 species of pests. Protect your home from common household pests, rodents, and killer bee swarms. Plus beehive removal and termite protection, all for less than $2.00 a day.