Las Vegas Rat Removal & Control
Professional Rat and Mouse Removal Services in Las Vegas
Rats are something you probably don't want to encounter in your household. They are not only unsanitary and can carry diseases, but they can also do a lot of damage to your home.
Nothing is really safe when it comes to these rodents. Rats can chew on basically anything, so they will destroy electric cabling or wooden elements, as well as spoil your food supplies.
What's more, they reproduce quickly and in large numbers, so it's essential to react to their presence as soon as possible and to make sure that you get rid of all of them before they cause any more damage. Luckily for you, we are here so that you don't have to be concerned about that.
If you live in Las Vegas and need critter control, call us and worry no more. Guaranteed.
Where Do We Provide Our Rodent Control Services?
We offer our high-quality pest control solutions in North Las Vegas, Henderson, and even Boulder City. Contact us today, and we can schedule a free consultation. If it's urgent, we can also offer same-day services. We're a team of Las Vegas rodent control experts who will help you to make your home or business safer.
Professional Rat and Mouse Removal Services in Las Vegas
We are a reliable company providing pest control services in Las Vegas, NV. We have a team of experts trained to deal with any rodent problem that may occur in this area effectively.
Rats are relatively intelligent, and they manage to find ways to do harm while keeping out of your sight; these lurking creatures simply hide during the day and stay active at night undisturbed. It may be extremely difficult for an untrained eye to spot these little critters, not to mention getting rid of all of them yourself.
Our pest control experts know all the practices proven to deal with rats without endangering the rest of your household. You, your family, and even your pets are 100% safe at all times.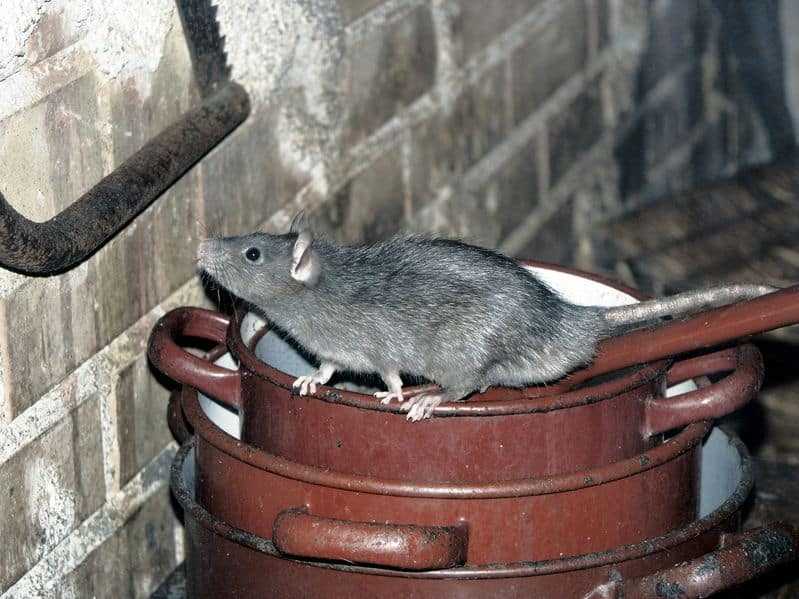 Schedule Service
5 Signs You Have a Rodent Problem
Rodents may not be visible for most of the time, as they are very good at hiding, but they are not masters of covering their tracks. Since the roof rat is one of the most common rodents in Las Vegas, you need to keep your eyes open. There are several signs that may indicate you need to call pest control services.
Scratching Noises – These aren't noises that will wake you from your sleep, but if you happen to be awake at night when they are most active, you will be able to hear them if you listen carefully. Pay attention, especially to places where you suspect rats can reside in your home, such as false ceilings, the attic, or the basement.
Droppings – They are small and dark, and a single piece may be hard to notice, but rats usually leave between 50 and 80 of them, most likely somewhere close to the food.
Grease Marks – Rodents leave them whenever they rub themselves against the walls.
Tracks – If there is a dustier part of your home or another flooring that you can leave your tracks on, you will find rats' footprints and tail marks. If you suspect that you may have rodents, but you're not sure, you can do a test by sprinkling some flour on the ground.
Smells – Rodents urinate a lot, and unfortunately, it is hard not to smell the odor.
Remember that if you see a dead or alive rodent in your home or your office, it almost always means that there are more of them.
How to Prevent Roof Rats
Roof rats in Las Vegas are not uncommon. You can often encounter them in many building structures; as long as there's a hole, a roof rat can get in. If you deal with an actual invasion, it's best to contact the proper services like an exterminator, but there are some things you can do to prevent roof rats from entering your home in the first place.
Don't let trees and bushes get too close to your house, and always make sure that they are well-maintained. In general, taking care of your garden may be of great help.
If you have an outdoor trash can, keep it away from your house or get one with a secured lid. Make sure it stays relatively clean.
If you have any missing, damaged, or loose roof shingles or your chimney doesn't have a tight-fitting cap, or the caulk of your windows seem to need the replacement, don't hesitate and take care of it. You will discourage any roof rat from entering if you keep your house sealed.
Don't leave food lying on the floor, and if you store something, whether human or pet food, make sure it's sealed tight.
You also don't want your vents to be an easy entry in for a roof rat, so provide tight-fitting covers.
Repair leaky faucets and damaged pipes not to let the rodents have a constant water source.
Rat and Rodent — Las Vegas Pest Control
We are a rodent removal and pest control company offering satisfaction guaranteed services to all people living in the Las Vegas, NV area. We will make sure that your house stays free of rodents after our visit, or we will come back and get rid of them again free of charge.
Rodent invasions may look different in every home, so we always start with assessing your property to be able to choose the most suitable treatment solution. Our group of pest control experts will help you not only eliminate the rat problem but also teach what to do to avoid rodents in homes and offices in the future.
Call us today to schedule a free consultation, no matter if you have a rodent problem or you want to do everything in your power to prevent it.
Where do we operate?
Our tailored pest control offer is available to all people struggling with pests of fearing their presence in the Las Vegas, NV area. We operate in North Las Vegas, Henderson, Green Valley, and even Boulder City. Contact us, and we will make a free appointment where you will be able to get a solution that will be most suitable to your needs. We also offer a same-day service if it's an emergency. Our experienced team of rodent experts is there to keep you and your family safe.
Where Do We Provide Our Rat Control Services?
We offer our high-quality pest control services in North Las Vegas, Henderson, and even Boulder City. Contact us today, and we can schedule a free consultation. If it's urgent, we can also offer same-day services. We're a team of experienced Las Vegas technicians who will help you to make your home or business safer. We're proud to serve these communities and beyond: