Las Vegas Termite Control & Treatment
Las Vegas Pest Control can help protect your home and your family.
Termites are notoriously challenging to get rid of. If they believe the queen termite is under threat, she will be taken deeper down into the tunnels. This could result in the termite workers causing damage to multiple areas of your home or business. Additionally, DIY pest control methods are rarely effective in the long term.
Luckily, at Las Vegas Pest Control, we have the tools to be able to quickly identify and treat a termite infestation. Unfortunately, a termite infestation often goes unnoticed until substantial damage has been done. However, our preventive pest control treatments at Las Vegas Pest allow you to stay ahead of termite infestations and keep your property protected year-round from termites.
Termite Baiting Program
We offer a few different termite control solutions, depending on the level of infestation. Our baiting program is ideal for those looking for long-term protection from pests. Utilizing a baiting program eliminates termites based on research on their behavior. Our team will install an inspection cartridge into the soil around your property and will be checked regularly for any warning signs of termite infestation.
If there are early signs of termite infestation, the inspection cartridge will be swapped out for the bait cartridge. The bait will attract termites to feed on it and bring it back to their colonies, and the bait will eventually wipe out their colony.
Why Choose Termite Baiting?
The best way to deal with termites is to prevent them from ever getting near your home in the first place. Once a termite infestation begins, these pests can cause damage to your home quickly, costing you thousands of dollars in repairs.
That's why we recommend taking a proactive approach and keeping your home protected from termites year-round. Paired with regular inspections, our termite baiting program is an easy and effective way to keep your home safe from termites.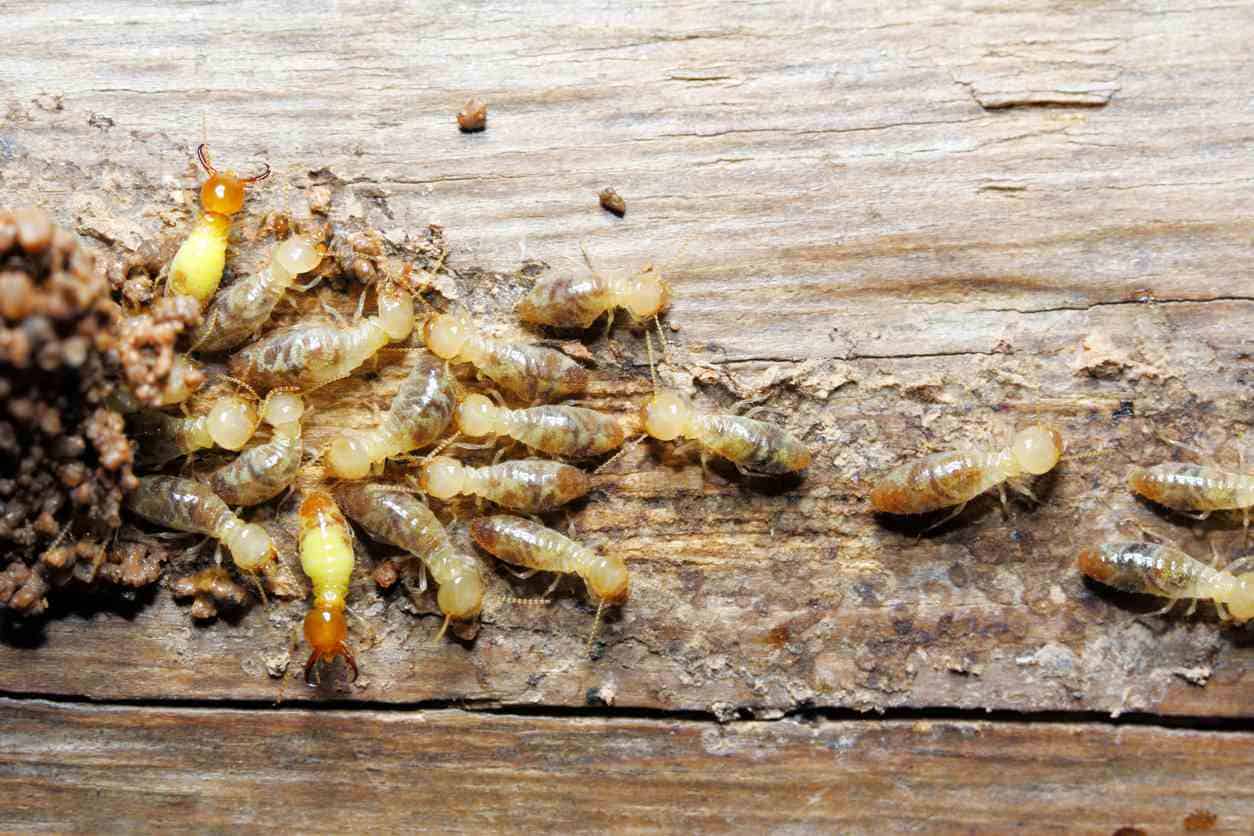 Schedule Service
Other Termite Control Methods
Termite Liquid Treatment
Our liquid treatments utilize our standard products to provide immediate treatment for pest infestation. The liquid treatment is applied to the soil near the foundation of your home or business, creating a long-lasting barrier from termites.
The Termidor System
The Termidor System involves injecting termiticide into the ground to directly treat an active termite infestation. This method doesn't require drilling or trenching your yard and is less intrusive than most traditional methods. Additionally, this treatment won't affect other wildlife or plants—just the termites.
Request Your Free Quote or Schedule an Appoint With Las Vegas Pest Control
Most people don't think about termite prevention until it's too late. If you don't take measures to protect your home, an infestation can occur and cost you thousands of dollars. Our preventive pest control treatments allow you to proactively protect your property from termites and other pests.
Protect your home or business from termite damage and give our team at Las Vegas Pest Control a call. We take pride in providing the Las Vegas area with high-quality pest control services for over 20 years. Areas we service include Clark County, North Las Vegas, Henderson, and Boulder City. Return to living pest-free and request your free quote or schedule an appointment online today!
Where Do We Provide Our Termite Control Services?
We offer our high-quality pest control services in North Las Vegas, Henderson, and even Boulder City. Contact us today, and we can schedule a free consultation. If it's urgent, we can also offer same-day services. We're a team of experienced Las Vegas technicians who will help you to make your home or business safer. We're proud to serve these communities and beyond: